André Marie Ampère: Master of Mathematics
January 16, 2016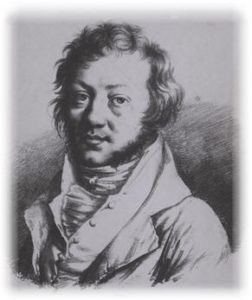 André Marie Ampère
I've covered volts and temperature and humidity so far in my search to explain the history behind our ALXII's measurement capabilities so what's on the menu this week? Amps!
Amperes measure the rate of current (electron flow) through an electrically conductive material. One ampere is equal to a flow of one coulomb of electrical charge per second. A coulomb is the measure of the quantity of the electrons that can pass in that second. Although it may seem that volts are the same there is a fundamental difference – amperes is the rate at which electricity is flowing, volts are the pressure which causes the electricity to flow in the first place. In general, we use the term electricity to cover the meaning of every part of it, it isn't until you look into the components of it that you realise how complex they are individually and in their relationships to each other.
It was late in the year of 1820. Volta's invention of the battery had allowed scientists to work with a constant electrical current and a great mathematician, André Marie Ampère, was working with wire carrying electric current. Fascinated by a discovery earlier in that same year by Christian Ørsted, that the flow of electric current in a wire could deflect a nearby magnetic compass needle and his discovery of electromagnetism – that electricity and magnetism are linked – Ampère decided to attempt to understand why electric current produced this magnetic effect.
As any good scientist will tell you, repetition is key! Ampère repeated Ørsted's work and quickly made the discovery that if two wires are parallel to each other and electric current flows in the same direction, the wires attract to one another, however, if the electric current flows in the opposite direction, they repel each other. He had produced a magnetic attraction and repulsion without the use of any magnets, all of it generated by electricity. He termed this new area of exploration electrodynamics, although we regard both this field and electromagnetism as one and the same now.
Ampère was a child born to the French Enlightenment period in which great thinkers such as Jean-Jaques Rosseau were urging the use of science and logic in society instead of remaining under religious doctrine. This seemed the perfect environment for him to develop his love of learning but the French Revolution quickly followed and whilst his father was utilised by the Revolutionaries to begin with, he was later guillotined by the Jacobin movement. Ampère was spared but his father's death had affected him greatly and he abandoned his studies for a year – luckily, his thirst for knowledge drew him back and we now know him as a prominent figure in our scientific history.
By 22 he had his own mathematics tutorial shop in Lyon and soon had many students, bringing him to the attention of Lyon's intellectual circles. He began to teach for schools and despite having no formal qualifications, he started to tutor university classes and was so impressive to the other mathematicians that in 1809 he was made a full professor! He was appointed the Chair of Experimental Physics at the Collège de France, Paris, later in his career where he remained for the rest of his life.
Ampère created an equation linking the size of the magnetic field to the electric current producing it. This work is known as Ampère's Law and it shows the relationship of the magnetic field (B) to the density of the current (J). For any closed loop circuit, the sum of the length of the circuit components multiplied by the magnetic field in the direction of the circuit components will be equal to the permeability multiplied by the electric current through the closed circuit, i.e. i.e. the mutual action of two lengths of current-carrying wire is proportional to their lengths and to the intensities of their currents. Permeability is a 'measured response of a medium to a magnetic field, expressed as the ratio of the magnetic flux density in the medium to the field strength; measured in henries per metre (μ)'. Ampère also applied this principle to magnetism, showing the relationship between his law and Charles Augustin de Coulomb's law of magnetic action.
The equation, however, is only relevant to a constant electric current. James Clerk Maxwell adapted it to be applicable to current changes around 40 years later. Maxwell's re-working was important in determining that light is an electromagnetic wave.
Ampère also created a technique to measure electricity to enable him to carry out his experiments – an instrument later called a galvanometer. This technique used a magnetised needle which could move freely and thus he could measure the flow of electricity. Modern galvanometers use pivoting coils, again freely-moving, attached to an astatic needle. Basically, astatic needles are two needles, mounted parallel on top of each other. They are approximately the same magnetic strength but the poles are on opposite sides. Everything is placed in the magnetic field of a permanent magnet and when electric current passes through, force causes the coil swivels and the needles to deflect in response to the current.
Ampère proposed that a new particle existed in his attempt to explain the relationship between magnetism and electricity. He called this the electrodynamic molecule. He believed that huge amounts of these microscopic charged particles were animated within the electric conductors and causing the electricity and magnetism reaction. Turns out, he was right and this explanation was the forerunner to what we now know as the electron. His work was demonstrable empirically and predictable mathematically and he published 'Mémoire sur la théorie mathématique des phénomènes électrodynamiques uniquement déduite de l'experience' (Memoir on the Mathematical Theory of Electrodynamic Phenomena, Uniquely Deduced from Experience) in1827. This publication is hailed as the founding of electrodynamics.
In addition to his work in physics, Ampère made some important discoveries in chemistry. In 1810, he theorised that a chemical compound containing hydrogen also contained a new element as yet undiscovered. Despite Britain and France being at war, science prevailed and he began corresponding with Humphry Davy, a British scientist, proposing that the element was similar in properties to chlorine – what he called fluorine – could be isolated using electrolysis. Davy had already discovered sodium and potassium this way but it was not until 1886 that a French chemist, by the name of Henri Moissan, finally isolated fluorine using the technique.
Ampère also published a piece on refraction of light in 1815 and he was a supporter of a wave theory of light, opposing the opinion of other theories that light was made up from small particles which travel in a straight line and has a finite speed and energy; corpuscular theory. He even proposed that chemical elements should be grouped according to their properties in 1816, many decades before Dmitri Mendeleev published his periodic table. He made quite a few mistakes but as only 48 elements were known in his time and Mendeleev knew of 65, it was easier to for Mendeleev to see the patterns in their properties. Another key difference was that Mendeleev noted atomic weights whereas Ampère did not, however, seeing as the list of atomic weights proposed by J. J. Berzelius work was not published until after Ampère's work on elements, we can cut him a little slack! Interestingly, we have not finished making discoveries for the table – only this year there was confirmation of four new elements which complete the seventh row of periodic table
In 1881, an international convention decided upon the SI unit of electric current being named in Ampère's honor – the ampere or amp (symbol A) and he is remembered within the Eiffel Tower, being one of only 72 names inscribed on it.