TVC supports EAAA with Christmas donation
December 14, 2017
It's a cold and icy winter's night. You're heading to your friends for a Christmas meal and some festive cheer. You're picking your way thru the ice through the frozen roads, concentrating and taking it slowly. Suddenly, something darts out in front of the car, a small muntjac deer. The animal made it to safety but, you slightly swerved to miss it and your car no longer has traction.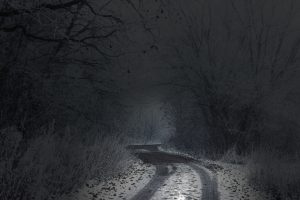 Despite how slowly you were going, your car is no longer under your control and you're heading towards the edge of the small river you were driving past. You know the roads around this area are difficult to reach and navigate. In a fumbling panic, you can't undo your seatbelt. Although the moment seems to take forever, in mere seconds you reach the edge of the road. You hope that the small barrier is going to hold against your tonne of off-road vehicle. It doesn't. The last thing you remember is the shock of cold water as everything turned black.
When you regain consciousness, you're confused by the lights and people, that you can't move. A kindly face appears, and tells you not to worry. You're on a stretcher with a neck brace and she tells you to try to not to move. Your left leg is severely broken and you overhear the words, 'internal bleeding'. The shock and cold have put you on the borderline of hypothermia and you need hospital treatment fast.
A light in the dark
Who are these champions bringing light to your darkness? How could they have reached you in such an awkward and remote place? These are the brave men and women from the East Anglian Air Ambulance (EAAA), sacrificing their Christmas' with their families to make sure you still get to celebrate yours. Your friends became worried when you didn't arrive or answer your phone, so they went out to look for you, to see if something had happened when they came across the tyre marks and the broken barrier. As soon as they saw your vehicle they called the emergency services. The call goes through to the EAAA who are underway within three minutes. Their helicopters and rapid response vehicles enable crews to reach patients quickly and sometimes those few minutes can make all the difference between saving or losing a patient.
Every second counts
Okay, so the above was just a dramatisation, but TVC would like to bet that even if this exact situation has never happened, something similar has. With every second crucial to a life-threatening emergency, the EAAA aims to be in the air within three minutes of receiving a mission. Their pilots can get to anywhere in East Anglia within 25 minutes.
The EAAA: A short history
Since the initial appeal launched by Andrew Egerton-Smith MBE, with the assistance of plane-crash survivor and internally renowned jockey, Frankie Dettori MBE, in August 2000 and its humble beginnings of just one flight day per week, the EAAA has grown exponentially. The past year has been no exception. The Airbus H145 helicopter began its journeys in January 2016 and with its greater capacity, not only in internal space but also in fuel storage, has helped in the EAAA being called upon for 3,004 missions. This figure is a 47% rise from the 2015/2016 figures. In addition, 2016/2017 saw a further Rapid Response Vehicle (RRV) Critical Care Paramedic shift covering four nights a week, and this shift alone attended 340 missions!
Volunteers and donations
Volunteers also play a crucial part in keeping the helicopters in the air – in 2017, around 300 volunteers gave up 3,800 hours, which is worth approximately £30,000 to the charity. Even with this level of dedication from volunteers, the cost per day to keep these life-saving crew's flying is £28,242. With this in mind, TVC has again decided to donate to the EAAA instead of sending cards or presents to our customers and suppliers. We hope we never need them but we also want to know they are there if we do.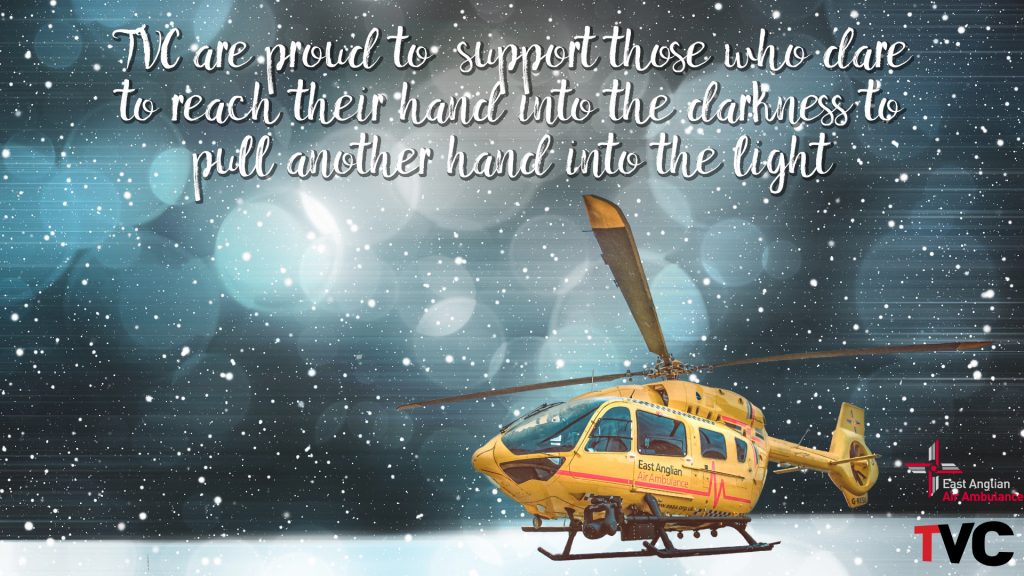 Christmas wishes
TVC would like to wish everyone a very merry, and safe, Christmas and a wonderful, prosperous New Year. We look forward to working with you again in 2018. For our Christmas and New Year openings, please check the image scroll on our Homepage.
All statistics and data provided by the EAAA and sourced via their final review document for 2017 which can be found here.