Laser, Video & ECT Inspection Systems – New Video!
July 28, 2016
TVC have been developing and manufacturing Laser, Video and ECT Inspection Systems since 2009 and the equipment is of bespoke design to clients' requirements.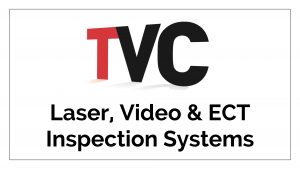 Click the icon above to watch!
Customers so far include Pipe Manufacturing and Pipeline Welding Industries and the equipment is tailored to provide the inspection of key areas in pipe welding
Remote visual inspection using full High Definition Cameras (wide angle lenses available); 10 x Optical Zoom as standard; HD Video Capture (with text overlay); Remote pan & tilt; can be combined with Laser and ECT equipment; deployment vehicles available for both Straight Pipe and Bends and full HD wireless video with ranges up to 1km.