The all-new, digital ColcheK2
May 8, 2017
TVC have been manufacturing the ColcheK system, under exclusive licence for several years but felt it needed further development for a new generation. After several months of development work, TVC are proud to launch the all-new, digital ColcheK2 unit.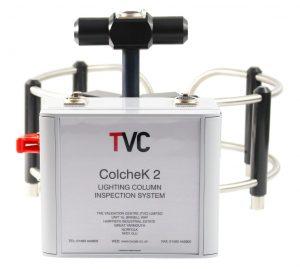 The new system has a digital display, depth measurement and threshold facility (which were not available on the previous system) and has had a complete overhaul of the internal electronics. The ColcheK2 now has a one button facility which eliminates errors in the initial set up, allowing far greater accuracy than was previously available. Based on the eddy current technique, the new unit is lighter, faster to set up and use and gives instant pass/fail indications with the easy to read and colour changing display.
French physicist, Jean Bernard Léon Foucault (best known for the invention of the Foucault pendulum), discovered Eddy Currents in 1865 when carrying out experiments using magnets and nonmagnetic materials. Foucault observed a resistance to the rotation of a copper disc when it was influenced by a magnet. He also noted the disc became heated. This was the first documented evidence of Foucault Currents or Eddy Currents as we now know them. To find out more about Jean Bernard Leon Foucault, click here, or more about Eddy Currents specifically, click here.
The ColcheK2 system is a compact and rugged unit which utilises a remote field, through transmission Eddy Current technique. Through transmission probes are similar to differential probes – in basic terms, it's two coils into two packages – and is, therefore, unaffected by temperature and lift off. Through transmission probes detect corrosion and wall thinning remote from the drive coil allowing the below-ground inspection of planted steel lighting columns, without excavation around the column base.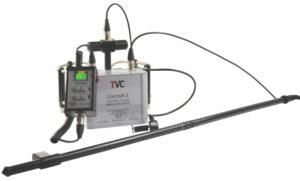 Featuring a unique ultrasonic range finding system used to accurately feedback the search head depth inside the column, the ColcheK2 allows the operator to locate and identify the depth of an actual defect and its significance when related to depth. A defect located deep down is less significant than those located near to ground level. The cable entry on a column can also easily be identified by its depth and size and eliminated from the inspection.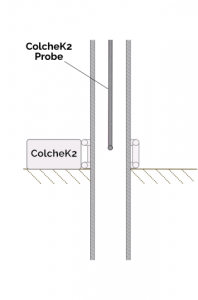 Planted steel lighting columns either between ground level and cable entry or up to one metre in depth can be inspected by the ColcheK2. Applications include pipework and risers through bulkheads and deck plates on board ships and offshore installations; lighting columns and lamp posts embedded into the ground, and, any other applications where access is limited.
Deployed from the outside of the columns and a small search head, used internally, the system detects loss of wall thickness. Using the normal access door, the ColcheK2 probe can scan the critical area and give an instant reading of the percentage loss of wall thickness on the instrument meter. When used for this type of routine inspection of lighting columns, there is no need to excavate the site as the ColcheK2 can detect a 5% loss of wall section as far down as 750mm below the ground level.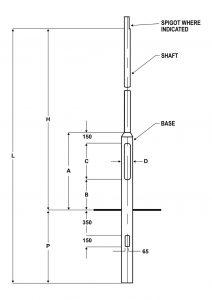 Although testing has confirmed the ColcheK2 can detect faults within aluminium, its usefulness is limited and further testing will not be carried out presently. Increase in frequency due to the properties of aluminium means Eddy Currents can travel only around 150mm below ground and therefore, critical areas may not be fully covered.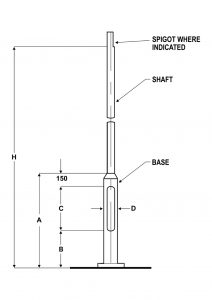 Street lamps fail for a number of reasons, for example, bad installation, impacts or corrosion. Lighting columns are most susceptible to corrosion at and slightly below ground level; water, road salt and other chlorides and oxygen from the air combine to make this a highly corrosive area.
The ColcheK2 is currently used by inspection companies and local councils to inspect lighting columns prior to the installation of lights and decorations to check the column is suitable to bear the additional strain. ColcheK2 has been used on seaside resort lighting columns where summer decoration and additional lighting is common. It is also used in special event areas including those around the Isle of Man TT course prior to racing.