TVC awarded UKAS accreditation
August 16, 2016
TVC are delighted to finally announce we have been awarded UKAS accreditation for our calibration laboratory.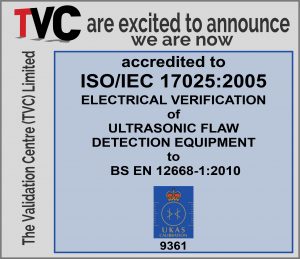 Laboratory accreditation to ISO/IEC 17025:2005 enables us to conduct the Electrical Verification of Ultrasonic Flaw Detection Equipment to BS EN 12668-1:2010. It has taken many months of hard work and we want to thank our staff for all their efforts during this massive undertaking.
The past two decades have seen us grow and we are delighted to gain UKAS accreditation as we enter into our third. This is a symbol of our drive for quality.
Why UKAS Accreditation?
UKAS is established as a 'leader in the area of accreditation' and has been in operation since 1995. The awarded capability in this standard enables us to provide you with:
a professional and quality driven service
competent and skilled technicians
traceable and valid results of the highest quality
Furthermore, UKAS has a set of core values which it seeks to implement within its structure and activities. These form the acronym PRIDE– Professionalism, Responsibility, Innovation, Delivery and Excellence – and we will strive to follow their lead.
UKAS released a short video which shows how regulations affect every part of our lives and how, as a result, using international standards will 'deliver confidence'. Consequently, it ensures that the goods and services around us are safe to use and conform to regulated standards.
UKAS accreditation in ISO/IEC 17025:2005 is internationally recognised, therefore, calibrating your Ultrasonic Flaw Detection Equipment to BS EN 12668-1:2010 will:
give you an edge over your competitors
provide an objective view of your equipment
enable you to prove your due diligence to prospective clients
help to manage risks within your design or service processes
give your company credibility worldwide and open up trading markets
We will be adding blogs and further information shortly but please contact us if you would like to know more.