The products and services we offer are of the highest quality. We are driven by their efficiency and reliability, as well as our customer service and delivery.
TVC is a technology and service company providing safety critical solutions across industry sectors since 1995. Through the development, manufacture, and marketing of first-rate monitoring systems, we are a global leader in data acquisition and logging solutions.
No matter how demanding your needs are, we have the expertise to meet them.
Company directors with over forty years of combined experience in the NDT equipment industry.
In-house designed and manufactured Industry 4.0 compliant weld monitoring and data logging systems. 

Customised and one-off inspection equipment designed specifically for operation in the most demanding conditions.

First-class repair and calibration service for all types of NDT equipment.
Accreditation to ISO/IEC 17025:2017 (UKAS) for Ultrasonic Flaw Detection, Ultrasonic Thickness Measuring, Weld Monitoring, and Welding Inspection equipment both in our laboratory and onsite at customers' premises.
Approved and audited BS EN ISO 9001:2015 certified Quality Managment System for all equipment calibrations carried out to national and international standards, manufacturers' specifications or specific customer requirements.
Exclusive licence to manufacture and supply the ASAMS Ltd System 3 and System 12 Magnetic Particle Inspection Subsea systems.
Comprehensive inventory of NDT equipment for both short and long-term rental.
Meeting the needs of our customers
With over 25 years experience, our calibration service is second to none. Available on most types and makes of Non-Destructive Testing (NDT) and Welding Inspection equipment, either within our controlled laboratory enivronment or onsite at our customers' premises. 
We are an ISO 17025:2017 UKAS accreditated laboratory.  This enables us to conduct BS EN 22232-1:2020 electrical verification of Ultrasonic Flaw Detection Equipment, BS EN 15317:2013 for Ultrasonic Thickness Measuring Equipment and electrical verification of Welding Inspection Equipment with on- and off-site capabilities.
We also continue to offer a traceable calibration and repair service for all types of NDT and Inspection Equipment. Our Calibration Laboratory is audited and approved to ISO 9001:2015 Quality Management System for the Service, Repair, and Calibration of NDT equipment and calibrations are carried out to UK and international standards using equipment traceable to the National Physical Laboratory (NPL).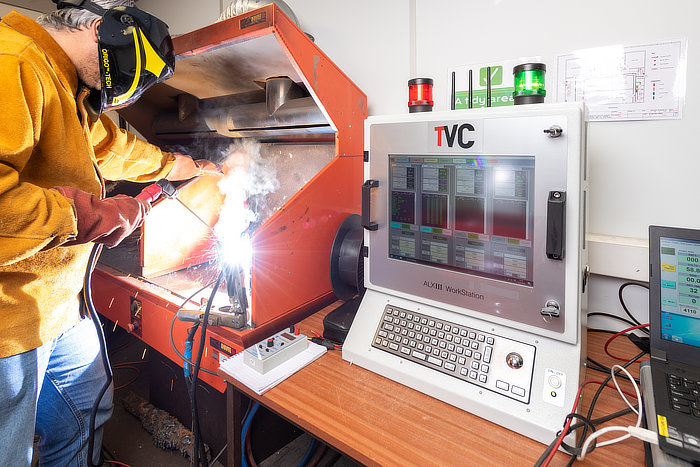 Digital 9001:2015 Certificate
To view our ISO IEC 9001:2015 Quality Management System certificate, click below.
Digital 17025:2017 Certificate
To view our ISO IEC 17025:2017 Schedule of Accreditation, click below.
TVC is the home of weld monitoring equipment, and our monitoring and logging solutions provide invaluable benefit to our customers.
Our next generation of weld monitoring and data logging systems combine the latest
software advances to facilitate the seamless digital exchange of welding data at all
levels for IoT and Industry 4.0 compliance. With wireless capabilities for network
connectivity and TVC wireless sensors, VNC interface software, and remote
assistance, it doesn't matter where in the world you are.