GPM: Special Adaptor
March 18, 2020
At TVC we pride ourselves in our design capabilities. We create specialist and custom-built systems, providing solutions for the welding and inspection industries but we also customise our well-established equipment.
We were recently approached by one of our clients working in the Aerospace Industry who had a requirement to measure either the Oxygen or Moisture content at the welding torch to very low levels to ensure compliance with NADCAP specifications. The Specification states required levels were Oxygen Content 20ppm Max or Moisture 125ppm Max (-40°C Dewpoint) to be measured at the Torch Head after any Gas Bottle Exchange and/or Bulk Gas Delivery.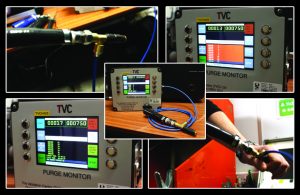 For this application, we manufactured a specialist adapter that can be fitted on to any size Tig Torch Gas Shroud providing a precise seal and can easily be used with any of our Gas Purge Monitors allowing fast and accurate measurements of the Oxygen Content to be taken as required under NADCAP Specifications at the Torch Head for both Manual and Automated Welding Processes. Both our GPM and HPM Purge Monitors use the latest Dual Sensor Technology allowing accurate measurements of Oxygen content in Shielding and Purging Gases from 1ppm up to 21%.
By sheer coincidence, we had another enquiry for almost exactly the same application but from a client who specialises in the internal cladding of Carbon Steel Pipes for the Energy, Oil and Gas industry sectors. This innovation also enabled us to instantly demonstrate a solution for a non-aerospace industry client producing Inconel Weld Clad Overlay of CRA pipes.
If you have a requirement that requires the fast and accurate measurement of the Oxygen or Moisture content in Shielding or Purging gases, then please contact us to discuss your requirements.